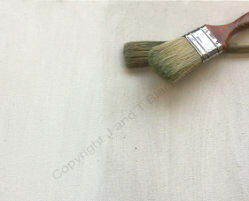 Birch Ply, temporary image
Birch Ply as a surface
Birch Plywood is a rigid support excellent for painting onto, it needs no priming for the wax/oil mixture to live well.
The plywood veneer can be used raw, primed, or a thin skim of wax applied to the surface, another way of priming the surface.
Birch is a stable, quality ground for use with wax medium and oil paint, especially, if numerous layers will be built-up for the work.
Unlikely to warp, it will remain sound and carry the weight of paint, however, 3mm would be a minimum thickness.
Purchase from your local DIY store, they will usually cut the sheet of Birch Ply to size, or, try online for a large selection. The same can be said for MDF