Surfaces for painting.
There are many surfaces onto which you can paint Cold Wax Painting Medium and Oil paint, Cold Wax Medium alone and Cold Wax with mixed media.

The image right shows a selection of surfaces, which include, watercolour paper, watercolour-board, oil paper, raw canvas, oil primed canvas, canvas-board, gesso-board clay-board, oil primed board....etc. There are numerous choices, perhaps only limited by the way the wax/oil will be applied.

Cold Wax Painting is a renascent subject with few rules and restrictions, consequently, very freeing. Different surfaces.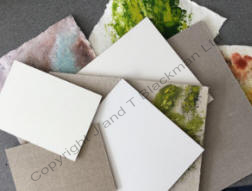 Surfaces for Cold Wax